On May 8th, 2019, Creative Cloud users have started receiving emails from Adobe stating that older versions of the products they are using have been discontinued and that users are no longer licensed to use them. For many of these developers, this not a reasonable request as they need to utilize older versions for certain projects.
In addition, the email states that users of these discontinued programs must upgrade to a newer version or they "may be at risk of potential claims of infringement by third-parties".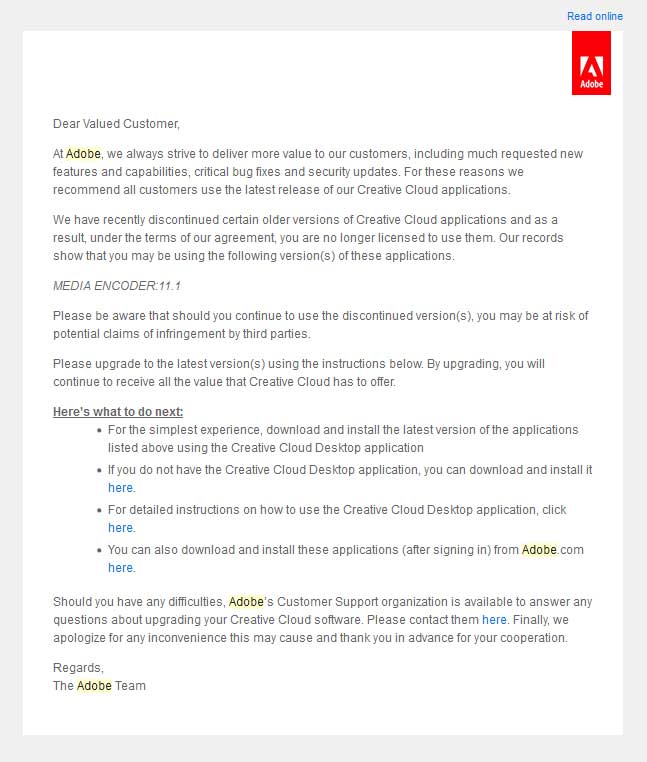 According to a support page created by Adobe on May 8th, the following programs have versions that have been discontinued:
Photoshop, InDesign, Premiere Pro, Media Encoder, After Effects, Animate, Audition, Lightroom Classic, Bridge, Prelude, SpeedGrade, and Captivate
When users started receiving these emails, they were concerned as many developers will not switch program versions in the middle of a project as it may introduce bugs. Others had issues because they were using older equipment that may not support newer versions of Creative Cloud programs.
In the past, Adobe would allow you to have access to many years worth of versions. For example, Ashley Lynch, who shared the above email with BleepingComputer, told us that she previously had access to versions going as far back as Adobe Premiere version 11, but now only have access to version 13.0 and newer.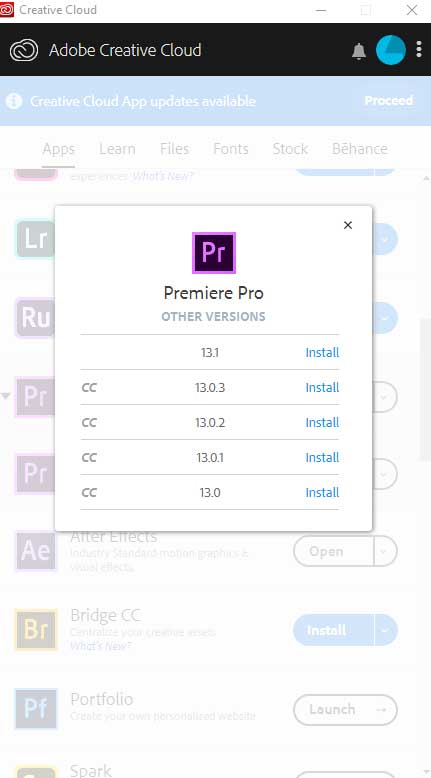 In response to user's complaints in the Adobe forums, an employee stated that going forward, "Creative Cloud customers can download only the two most recent major versions of Creative Cloud applications". In a linked to support article, it states that the reason for this new policy is so users receive the most "optimal performance and benefits."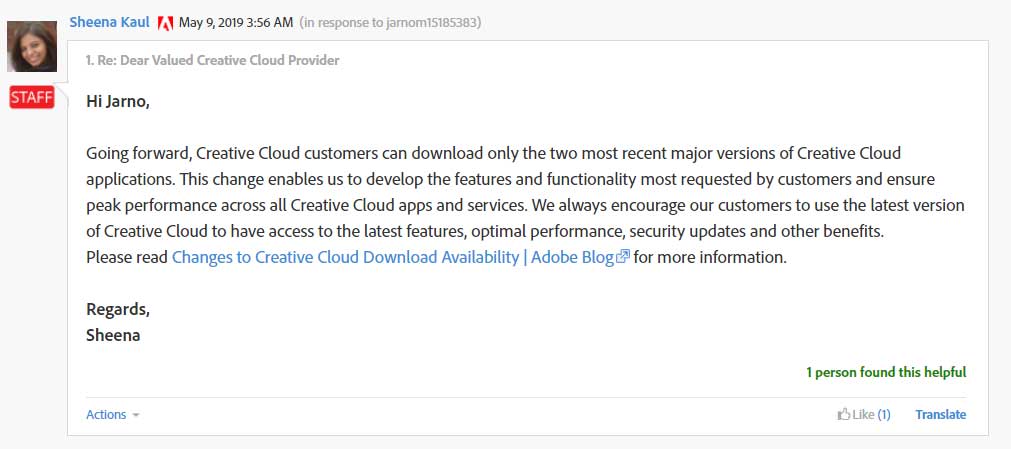 Strangely, though, there was no mention of the email's statement that users who do not upgrade "may be at risk of potential claims of infringement by third-parties".
Dolby litigation suspected to be the reason
When discussing this email with Lynch, she stated that it was thought that this could have to do with the ongoing litigation between Adobe and Dolby.
In March 2018, Dolby sued Adobe for unpaid license fees related to the use of their technology in various Adobe software. Many of the discontinued programs mentioned above include Dolby intellectual property.
When BleepingComputer contacted Adobe about these emails and if it had anything to do with the Dolby lawsuit, we were told:
"Adobe recently discontinued certain older versions of Creative Cloud applications. Customers using those versions have been notified that they are no longer licensed to use them and were provided guidance on how to upgrade to the latest authorized versions. Unfortunately, customers who continue to use or deploy older, unauthorized versions of Creative Cloud may face potential claims of infringement by third parties. We cannot comment on claims of third-party infringement, as it concerns ongoing litigation."
Between the statement concerning "ongoing litigation" and the "risk of potential claims of infringement by third-parties" while it has not been confirmed, it does seem likely this has to with the Dolby lawsuit.
Source link