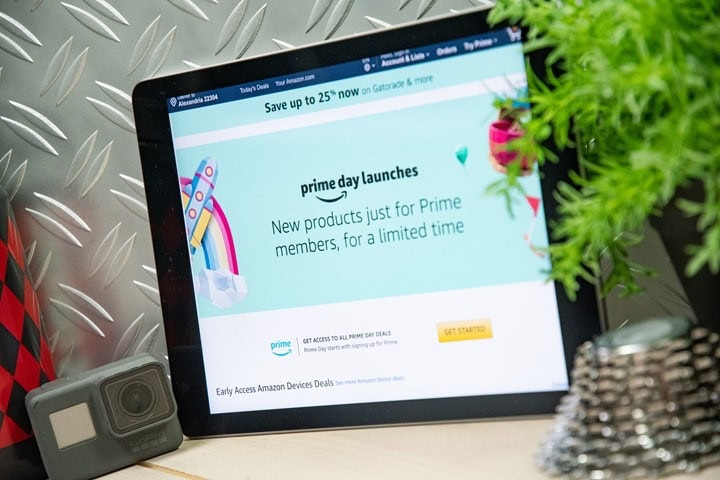 Ok folks,you know the drill – today's the best day of the year short of Black Friday for deals, sports tech and beyond. What started just a few short years ago as an Amazon-only thing has oddly enough spread beyond Amazon, with other retailers and companies matching as well. One could easily just call it mid-July day, or Bastille Day Morning After. Whatever floats your boat.
I'll be updating this list all day long as things come in and out, as well as via Twitter. Remember – things will come in and out. The whole point of Prime Day is short term sales. Stuff usually only lasts and hour or two. If you see something you like – grab it, it'll soon be gone (and figure out how to return it later if need be). Also, I know a number of sports tech companies are indeed participating – both with and without Amazon, so I'll definitely be highlighting those as I see them.
Now, despite it being known as 'Amazon Prime Day', the fine folks from Seattle aren't terribly good with singulars versus plurals, and this year it's actually two days – today (July 15th) and tomorrow (July 16th). And of course, any of the links you find here will likely support the site – so I very much appreciate that. And if you see anything else on Amazon you want, simply hit one of these links first and then search on Amazon and it'll still help support the site. Easy-peasy!
You'll need to be an Amazon Prime member, but you can use the free trial if you don't have membership. Oh – and one more pro-tip: Most of the time Amazon will repeat sales during Prime Day – so if you missed out, check back every 3-4 hours, sometimes it'll show up later on.
Sports Tech Deals:
These are all the deals on products that I've reviews, had hands-on time with, or otherwise dorked with. Note: I'll be trying to to include Euro deals as best as possible throughout the day, though sometimes it's a bit tricky to find them across so many Amazon EU sites.
Apple Watches: 30-40% off Apple Watches: This includes the Apple Watch Series 3 down to $169-199, and the Apple Watch Series 3 LTE down to $224. Holy balls. Also, if you're looking for a new iPad for your indoor training, some are upwards of 40% off.
DJI OSMO Action – $30 off, down to $319: This is DJI's first action cam that came out a bit over a month ago, and the first time we've seen it on sale.
DJI Mavic Air – $120 off, down to $679: I often mix and match this or the DJI Spark as my favorite drone for taking with me on travels and rides. Easily fits in back jersey pocket.
Garmin Wearables: 30-50% off many Garmin watches: This includes the Fenix 5 series, Forerunner 35 (down to $88!), the Vivoactive 3 (down to $149!), and even the Garmin Forerunner 645 Music among many others.
GoPro Hero 7 Black – $50 Amazon Gift Card included: It's kinda like getting cash back. It's also my main action-cam go-to.
GoPro massive accessory package: I got almost this exact same package earlier this winter. The price is normally $25, but it's set as 'Upcoming' for a deal later today.
SanDisk MicroSD Cards for Action Cams – 30-60% off: I use plenty of SanDisk cards for my action cams and drones. Seriously, I have a disturbing number of them. My personal sweet spot is 128GB, but I often buy 256GB cards.
Wahoo Fitness sensors – 20% off: This includes the dual ANT+/BLE TICKR HR strap, RPM cadence sensor, speed sensor, and BlueSC dual speed/cadence sensor.
European Deals:
Generally speaking most Amazon EU sites (UK/DE/IT/ES/FR) will ship within the EU without issue. Generally being the operative word. If Amazon lets you, then you're all good. If it doesn't, then sometimes sneak around to the other Amazon sites and occasionally it'll work there instead.
Garmin Wearables: 30-54% off many Garmin watches: This includes the Fenix 5 series, Forerunner 35 (down to 79GPB!), the Vivoactive 3 (down to 149GBP!), and even the Garmin Forerunner 735XT triathlon bundle and the Vivomoves are here. This DOES support shipping to mainland Europe.
Polar Vantage V – 50% off! That's a slamming good deal, down to 220GBP. Also shippable to mainland Europe.
Polar Vantage M – 36% off: Also a good deal, note too that both the Vantage V & Vantage M will receive the vast majority of the new features from the Polar Ignite, later this year.
Polar A370 – 55% off: This is their activity tracker that can also leverage your phone's GPS.
Other Stuff:
Things in this bucket are basically the things I'm buying or have bought that may or may not have to do with sports tech, but I know a lot of you are curious about other tech-type purchases I make – such as photography or foodie contraptions or such. All of these are of course on sale.
Elgato Green Screen: This is what both myself and GPLama use for any green-screen content we do. Lama uses his way more than I do. 🙂 It's supposed to be 20% off later today.
Elgato Cam Link 4K: This little USB accessory allows me to record/stream cameras, but also is what I often use to record Zwift from Apple TV & my laptop. It's 10% off today.
DJI OSMO Pocket – $30 off: I wouldn't recommend this for sports usage, but I do actually use it a bunch at trade shows and around events. It's a incredibly small stabilized camera.
—
With that – thanks again for reading (and using the above links)!
Source link